Hearts and Lonely Hunters (2016)
Black Mark
Old World
Comeover & Jam
Heart's For Breaking
The One Girl
Elvis
Lucifer
Front Porch
Treasure
Northern
Broken Yesterdays
The Parking Lot Song
While I Was Gone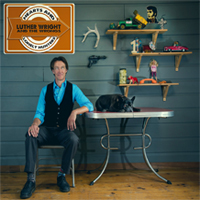 Produced by Hught Christopher Brown on Wolfe Island this latest offering is a little bit country and a little bit rock and roll. Flushed out with lush production and the Wrongs at the top of their game. As usual their sister from another mister Sarah Harmer adds her voice to many of the songs. A smooth listen from beginning to end.
Buy Hearts and Lonely Hunters
Man of Your Dreams (2008)
Man of Your Dreams
Twin Butte, Alberta
Things Twice
The Pushing & the Pace
Good Time
Wooden Dreams
Born to Burn
Cheatin' Days
Scandalous Girl
All the Glory
While the months rolled by Luther worked steadily on this pop/roots cd, bringing in talent as he saw fit. Songs of windly hills and crowded bars, regret weighs nothing compared to hope and movement. Mixed by Marty Kinack and freshly available.
Buy Man of Your Dreams
Instrumentality (2006)
The Groovy Grotto
Fiddle Hickey
Tumbler Ridge
Joe's Waltz
The 7 Seas
Yankee Doodle Dandy
Howdoyoulikeitnow?
The Colored Aristocracy
Goodnight, Ladies
The Sorrow Boogie
Betty from Ohio
This record got started in 2002 when we received word from the Canadian filmmaker Ron Mann. He had recently been at a non-violence training camp in California where he caught wind of our c&w version of The Wall and he liked what he heard so much that he asked me to write a song for the documentary film he was currently working on entitled, "Go Further", featuring actor/environmentalist Woody Harrleson.
I wrote a few numbers and Ron ended using "Tumbler Ridge" and then also commissioned a version of "Yankee Doodle Dandy" to feature in the film.
So with the instrumental seed planted Jason Mercer, Megan Palmer and I set aside a few days in the steamy summer of 2003 to record the bulk of this cd in a little cabin around a couple of mics and generally in one or two takes. We were gearing up for a 3 month tour of North America at the time so when any of the Wrongs posse showed up we would have them add a bit of this or that to the mix. It felt good going down and it feels right right now so we hope you enjoy.
Buy Instrumentality
Guitar Pickin' Martyrs (2003)
Wish Me Well
Devious Dissembler
Land of Milk & Honey
Race to the Top
Broken Fuckin' Heart
I'm Not Okay
Not Feeling Fine
My Heart, My Heart
Guitar Pickin' Martyrs
Darlin'
Letting Go
It's Mighty Dark to Travel
The Settling Dust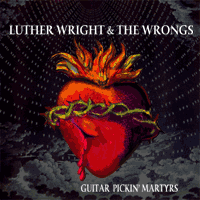 Eight months to make this album that gets its guts from bottom of the well of human heartache seems like a blip when one considers that tears flow like a mighty river throughout time, across cultures and like this sentence, go on and on and on and on and on............... Thirteen songs to take through the ringer with you. Smokin' solos and fearless singing jammed together by a boffo vernacular that cuts deeper and deeper with each listen. It all started with track five, "Broken Fuckin' Heart" and the rest grew around that song like ivy around the stone.
Buy Guitar Pickin' Martyrs
Rebuild the Wall (2001)
In the Flesh
The Thin Ice
Another Brick In The Wall Part 1
The Happiest Days Of Our Lives
Another Brick In The Wall Part 2
Mother
Goodbye Blue Sky
Empty Spaces
Young Lust
One of My Turns
Don't Leave Me Now
Another Brick In The Wall Part 3
Goodbye Cruel World
Hey You
Is There Anybody Out There
Nobody Home
Vera
Bring The Boys Back Home
Comfortably Numb
The Show Must Go On
In The Flesh
Run Like Hell
Waiting For The Worms
Stop
The Trial
Outside The Wall
For over twenty years, these great C&W songs cooked in the stew pot of Rock 'n' Roll. That is, until Sheriff Luther and his deputies The Wrongs hit town to engineer the biggest country/bluegrass rescue operation in human history! Sure it was dangerous. But good songs is good songs and there was no stopping these cowpunks once the idea took root.
So now for your listening pleasure, Pink Floyd's "The Wall".re-recorded by the talented and ruthlessly handsome Luther Wright & The Wrongs. Led by guitarist/vocalist Luther Wright, The Wrongs are powered by the fabulous Cam Giroux on drums/vocals, Sean Kelly on bass/vocals, Dan Curtis on lead electric and acoustic guitars, banjo, mandolin/vocals and Olesh Maximew rounding things out on pedal steel. Part-time Wrong Jason Mercer (bassist for Ani Difranco) plays all those fast banjo bits that take this baby over the top!
Buy Rebuild the Wall
Roger's Waltz (1998)
Truck Driver
Frozen Alone
Celia
$'s To Doughnuts
The War Nurse
Remember
Roger's Waltz
Good Night
The Reward
Ernie
The 7 Seas
'Roger's Waltz' is our second CD; a collection of songs recorded on our back porch during the summer of '98.
Buy Roger's Waltz
Hurtin' For Certain (1997)
Ham & Bacon
Hurtin' For Certain
Karaoke Bingo
Orlando Bound
A Stone
Bells of Oaxaca
Empty Eyes
The Sorrow Boogie
Northern
Time to Go
Luther's Got The Blues
'Hurtin' For Certain' is our first cd. It was recorded when Luther and Cam were quite busy playing in Weeping Tile.
Musicians: Luther Wright (vocals, acoustic & electric guitars), Cam Giroux (drums, vocals), Sean Kelly (bass, mandolin), Sarah Harmer (harmony vocals), Brian Flynn (violin), Dan Curtis (guitar solo-track 4), Kim Deschamps (pedal steel, dobro, banjo, hawaiin guitar, lap steel), Trevor Henderson (squeeze box, lap steel-track 2).
Buy Hurtin' For Certain